Clent, Hereford & Worcester

Browse our selection of old black and white photographs of Clent, along with a selection of historic maps, local history books, and fascinating memories that our visitors have contributed. All our photos and maps are available to buy in a wide range of product formats, including framed prints, canvas prints, tea towels, mugs, jigsaws, tableware, cushion covers and as one photo in a customised calendar. Most of our local history books can have a personalised inscription added for FREE to the title page.
Historic Maps of Clent and the local area.

Read and share your memories of Clent itself or of a particular photo of Clent.
The 1860s saw the passing of my 3x great-grandparents Thomas and Sarah Waldron and the marriage of their grand-daughter Ellen to William Huxley, my great-grandparents. These Huxleys lived at Yew Tree Cottage and Bank Cottage before leaving for Brighton around 1900...the end of an occupation by Huxley's since at least the 1760s.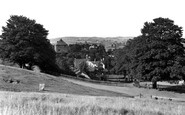 How amazing to read of another Huxley who married into the Waldron family in Clent. My great grandfather, William Huxley, married Ellen Waldron in 1867 and I believe her grandfather was Thomas Waldron, but have so far been unable to trace the "in between" generation. I have pictures of Clent showing houses where the (...Read full memory)