Browse our selection of old black and white photographs of Combe Down, along with a selection of historic maps, local history books, and fascinating memories that our visitors have contributed. All our photos and maps are available to buy in a wide range of product formats, including framed prints, canvas prints, tea towels, mugs, jigsaws, tableware, cushion covers and as one photo in a customised calendar. Most of our local history books can have a personalised inscription added for FREE to the title page.
Historic Maps of Combe Down and the local area.

My Gran and Grandad (Mr and Mrs Doman) lived in one of the cottages next to kingham House in the late fifties early sixties, next door to a Mr and Mrs Cole. They had a son called Cyril. Does any one remember them or have any old photos? My Grandad used to work for Monkton Combe school and I believe the house was (...Read full memory)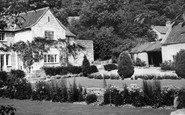 On my original birth cert the above is listed as my place of birth. I was adopted but it seems born in Bath. I have always wanted to see where I was born - alas it is too late but I hope I have located the spot. I would love to hear from anyone who has a similar experience or who has a little more information.