Historic Maps of Corfe Castle and the local area.

circa 1950, once a year they had a rook shoot in the castle, the men from around would meet in the square with an assortment of guns, rifles,shotguns,relics from both wars, all sorts of armoury, two of us young boys would be allotted to one gun, however many he shot we had to get the birds and then cut off their legs,the (...Read full memory)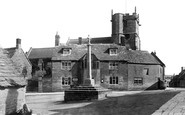 Lenny Thomas,Kipper Cross ,Alligator,titmouse,drug presence,john mayo,john read,and texas spent many hours and happy days playing cowboys and Indians in the castle, that's how I got my nickname. we were all in the "Jesse James " gang, being the smallest they ran out of names before they got to me, so I became the "texas kid.