Coronavirus: As an on-line business operating in a rural area we are open! Click here for more information
Coronavirus:
Thank you for the amazing support we have received from our customers during the last few months. Our office and factory are based in a rural area which has made it practical for us to remain open for business.
We are still able to despatch most of our products, however, coasters and placemats are still not available but we hope to offer these again soon.
Our despatch times are normal, but Royal Mail & Parcelforce delivery times are varying depending on location - some parcels arrive next day and others are taking up to 10 days, which we have no control over.
We will update this message as anything changes.
How to buy New Popular Edition Maps
New Popular Edition Maps are available to buy as follows:
Your chosen historic local map printed to order. Framed, Mounted, Print Only or on Canvas. See options
Add a personal dedication within a framed print to commemorate a special day or event. See options
Surveyed 1945-1948, New Popular Edition maps capture the ever-changing landscape of Britain at a crucial time in its history. See options
Explore the New Popular Edition Series
Surveyed during 1914-1948, and published 1945-1948. Scale is 1:50,000.
The New Popular Edition captures the ever-changing landscape of Britain at a crucial time in its history. The inter-war years arguably saw the emergence of 'modern' Britain. The patterns of development and transport links these maps reveal are in many cases familiar to the contemporary eye. Much, however, was about to change, in particular the suburban encroachment into the countryside and the further expansion of the road network. The Popular Edition is a potent record of the Britain that was about to be traded for the motor car. By an irony, it also provided the British with their first motoring maps.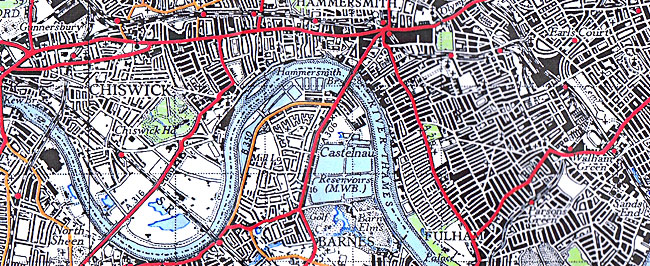 The problem of surveying and recording Britain's ever-changing landscape – one inhabited by over 50 million people by 1951 – had been exercising the minds of the government, the military and the Ordnance Survey ever since the completion of the Popular Edition in the late 1920s, although the cartographic ambitions of these parties did not always coincide.
The Fifth Edition of the 1930s was the result of various experiments of projection, sheet lines and styling which ultimately proved unsuccessful and the project was abandoned in 1939 with only a small number of sheets having been produced. Its replacement, devised in 1938, but delayed by the war, was the New Popular Edition, which first went on sale in 1945.
Initial publication was completed in 1947, but sheets covering south-east England, including London, were republished with road and other revisions (including bomb damage in the capital) between 1947 and 1950. The New Popular Edition was a mixture of Fifth Edition-style material in southern England and 'old' Popular Edition material elsewhere, with subsequent revision. It was eventually superseded by the Seventh Series between 1952 and 1961.
The New Popular Edition was in many ways a departure from previous Ordnance Survey series. Although still produced at the one-inch scale, it included (as recommended by the Davidson Committee in 1938) a metric National Grid. It was also the first series to incorporate Scotland as well as England and Wales using a consistent numbering system (although the Scottish sheets were not published), and was the first to be produced in portrait rather than squared or landscape format, with sheets of 45km x 40km.
The New Popular Edition was not produced from any one revision designed for the creation of the series and so is something of a hybrid: cartographically a stepping stone between the iconic Popular Edition of the 1920s, and the Seventh Series of the 1950s and the metric-scale 1:50,000 maps that followed from it. They provide a record of the country in the immediate aftermath of the Second World War and on the threshold of great social, economic and environmental change. Many rural areas were almost unchanged compared to how they appeared a century or more before, while many urban centres were industrialised, overcrowded and heavily bomb-damaged. Open countryside was still commonplace across the country as a whole, but was fast being eaten into by the suburban sprawl of large cities. The railway network remained intact, but Dr Beeching's axe was only a decade or so away, as was the opening of Britain's first motorway, the M1.
These maps, produced just after the Second World War, show that travel by road was now the dominant method of transport. Ministry of Transport classifications were now specified for roads, which were now numbered. Note also the new of symbols describing with the equally recent proliferation of the telephone and the wireless.
The New Popular Edition captures all this 'raw material' which planners and developers in subsequent decades were to use, for better or for worse, to create the Britain that we know today.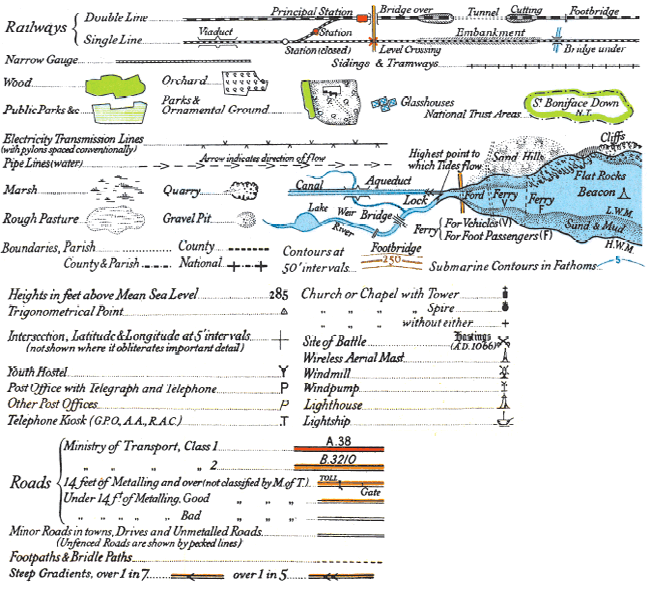 What you say about our Map Prints
We are always grateful and proud to hear back from you. Here's what you have been saying about our Maps. Read more testimonials.
Delighted with map. Many thanks
Christina Hardyment
This is just to say how delighted I am with the order I placed with you - order placed Tuesday, and arrived before lunch today. Absolutely brilliant. Item was required as a present for a member of staff at the Library, and everyone seems extremely pleased with the item.
Carol Edwards
Just to say a big thank you for the quality of the map I ordered from your company for a Christmas present. I was really pleased with it but was concerned I might not have enough wrapping paper left over- then what did i find but paper & gift tag included.
I am a very satisfied customer
Happy New Year & thanks once again to everyone concerned
Sue Whittaker
I am writing to let you know how delighted and impressed I am with my historic map of the above address. It has provided me with a fascinating insight into my local area and looks particularly delightful in its frame. Thank you very much!
Miss D Langham