Historic Maps of Elton and the local area.

I spent many holidays, as a child, in Elton, staying at Beresford House, the home of Mrs Elliott, a lovely lady. My parents were Bill and Lucy Paterson.My father had holidayed in Elton since he was a teenager, and knew lots of the locals. My parents were friendly with all of Mrs Elliotts children....who were all (...Read full memory)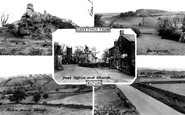 I recall staying in the youth hostel in Elton (Elton Hall was it?) when on a hostelling holiday in August 1967 with my girlfriend Angela Chapuis. We had a lovely time walking between Ilam Hall, Hartington and Elton youth hostels in idyllic summer weather. Somewhere I still have some photos from that trip.