Historic Maps of Frilsham and the local area.

I have vivid and mostly fond memories of my schooling here from 1963 to 1967. Some of the teachers were inspiring, a few not so. The rambling school building and extensive grounds with its woods and murky ponds are memory highlights, as are the friends I fleetingly made. I can't even complain about the food. If nothing else (...Read full memory)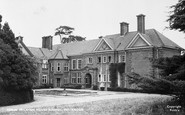 This was my school between 1962 and 1965. My memories are of separation from parents and friends, to live a regimented and mildly authoritarian regime at far too young an age. It wasn't awful ...but not nice either. The M4 runs through the playing fields where I suffered many a young humiliation. Thanks for sharing this picture all the same. Do parents still subject their children to this?