Historic Maps of Glyn Ceiriog and the local area.
I was born in Chirk Cottage Hospital and brought up in Glyn Ceiriog. I had a very happy childhood attending the Controlled School and later the Board School. I was a member of the Urdd and as a school we travelled and stayed with some lovely hospitable people when attending Eisteddfods in South Wales during the 1950's. (...Read full memory)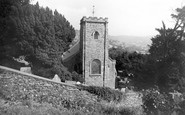 I really have little memory of life in Ceriog but would love to hear from anyonr who knw my parents who lived there in the early 1950's. Bertie and Phyllis Brown. I was born in 1950 and although I have as address I think it better not to add it here for fear on invading peoples privacy (same with the names I have. My mother was from Stoke on Trent, father a Southerner.