Haddenham, Buckinghamshire

Browse our selection of old black and white photographs of Haddenham, along with a selection of historic maps, local history books, and fascinating memories that our visitors have contributed. All our photos and maps are available to buy in a wide range of product formats, including framed prints, canvas prints, tea towels, mugs, jigsaws, tableware, cushion covers and as one photo in a customised calendar. Most of our local history books can have a personalised inscription added for FREE to the title page.
Historic Maps of Haddenham and the local area.

In 1944 three brothers were evacuees in Haddenham, we lived with an old couple named Mr and Mrs Saw in a house, I think it was named Dolly Cote House next to a farm, this was a long time ago but one thing I know is that one of my boots is in Banks Pond as my brother put it in there, if Banks Pond has not been drained it has been in there for 67 years! One of the best two years of my childhood.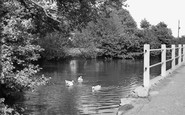 A recent visit to Haddenham reminded me of earlier visits to the monthly ceileidhs with Whitethorn Morris. More than 20 years ago I made my first visit to Haddenham and I remember leading the Whitethorn Band on my accordian for the interval entertainment spot in the crowded ceileidh. Just (...Read full memory)