Historic Maps of Holmfirth and the local area.

iwas born in holmfirth valley hospital in july 1944. my name is judith rowley and i had a sister jean.my mother mavis and my father jim.we lived in south lane,then moved to a lovely house called cliftonville but cant remember the road name.when i was about 7yrs i went to wooldale primary school. i would love to hear through this sight if anyone remembers us.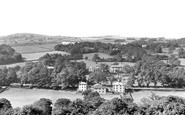 My dad worked for Pearl Assurance, and l think at one point in the early 70's the local office was above this shop. I remember it being called Hinchcliffs, they used to sell all sorts; Mr Hinchcliffe was a bit frightening and he had a full beard. His wife was nice though, her name was Jenny and she was a local artist; she produced some plates based on Holmfirth and surrounding areas.