Historic Maps of Hornby and the local area.

Read and share your memories of Hornby itself or of a particular photo of Hornby.
I have a photo of my great-grandfather John Richard (Dick) Erskine outside the Castle Hotel, Hornby in 1909 with two young Scouts named Lawrence and Hector Todd (born 1900 and 1901 approx). They all formed part of the 1st Lancaster Troop. If anyone has any information about Dick Erskine (especially post 1945), I would love to hear from them as am researching the family history.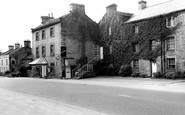 My memories are of dancing in the Castle Hotel, in the upstairs ballroom before the new vilage hall was built.