Historic Maps of Howden and the local area.

I REMMEMBER ONE FRIDAY. NIGHT WHEN ME AND MY VERY SPECIAL FRIEND BRUCE. WERE OUT ON THE TOWN. I REMMEMBER THINKING TO MYSELF HOW NICELY DRESSED ALL THE MEN WERE. THEN I MEET UP WITH SOME OTHERE FRIENDS OF BRUCE'S AND MINE.LISA.EMMA AND LUCY.THEY DIDNT SEEM THEIR NORMAL HAPPY SELF SO I SUGGESTED A FEW DRINKS IN THE (...Read full memory)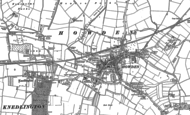 I'd love to know if anyone remembers any members of my mother's family from Howden. Her name was Alice Saltmarshe (born 1921), her sister is Annie (Doreen), and her parents were Nellie and Jeffrey Saltmarshe. Jeffrey's brothers Bob, Bert and Jack also lived in the town. I'd also love to hear from anyone who remembers Joan and Jim Pollard from Howdendyke!