Browse our selection of old black and white photographs of Ide Hill, along with a selection of historic maps, local history books, and fascinating memories that our visitors have contributed. All our photos and maps are available to buy in a wide range of product formats, including framed prints, canvas prints, tea towels, mugs, jigsaws, tableware, cushion covers and as one photo in a customised calendar. Most of our local history books can have a personalised inscription added for FREE to the title page.
Historic Maps of Ide Hill and the local area.

I was brought up in Westerham, living there until my parents moved in 1983. I have such fond memories of going to Sunday school at St Mary's, and singing in the church choir. I attended St Mary's primary, and loved it when Mrs Durman brought mitzi her cocker spaniel, into our lessons. They were the happiest years of my life. Does anyone remember Dorry Eger and the sweet shop on the green?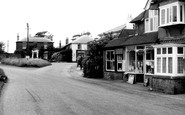 My father was born in Ide Hill and, when he left school, worked as delivery boy for Pierce's shop. That's how he met my mother, delivery goods to the large house Emmets, where she was a housemaid. When, eventually, I was born we lived about a mile outside the village, beside Sundridge Hospital, or The Union as it was known (...Read full memory)