Lavernock, South Glamorgan
Historic Maps of Lavernock and the local area.

Bear Bum Bay as it was unusually known by my family for generations was a regular haunt by my family as long as I can remember. I have a photo of my grandfather with his parents at the beach taken in the 1920s in all their finest, with the pebble beach packed. I personally remember still going there (...Read full memory)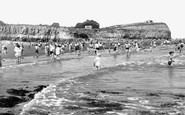 I was 10 years old when I visited the hotel run by my father's cousin George Appleton. We were visiting from Cape Town South Africa. I virtually had the beach to myself during that time and had a wonderful time exploring, ever mindful however of the tides that came in and out. A magical time of fantasy and discoveries.