Lyme Regis Memories
Read and share memories of Lyme Regis
I just received a gift of a map DUNSTERS geological map of THE ENVIRONS OF LYME REGIS price four pence. A great piece of Lyme history.
Remember the Marine Parade so well I came to Lyme Regis in the early 1950 as a pre nursing student at the Local Cottage Hospital my name then was Muriel. Davis we always were called by our surnames I married in 1956 to Tony Wiscombe member of a local building firm Those care free days walking to the Cobb and back on a Sunday then home for cream tea or trifle and sandwiches
Magical trip for a 14 year old working class boy attending Sinjuns Grammar School - a two week school journey to Lyme Regis. We had no car of our own, so bicycles and coach, bus and train journeys provided the backdrop to holidays. Holidays with mum and dad were always daytrips without overnights and cafes and picnics (...Read full memory)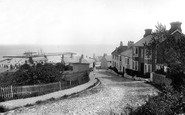 This was the home of my great grandfather Sir John Arrow Kempe whose daughter Cicely (my grandmother) was an artist and painted a beautiful watercolour of the main gates to the house, which I still have. Her son (my father) was brought up in Lyme Regis in a cottage on the sea front - we all spent many childhood holidays in Lyme Regis staying at the Bay Hotel.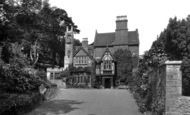 I worked at St Albans, first in 1968 with Mr and Mrs Barnes, and then with Mr and Mrs Appleby to 1971. I spent a lot of time in that pool and had no idea it was that old. St Albans was a great place to work and, to that day I'm still in touch with some of the people I met there. The memories of St Albans and Lyme Regis will always be with me .