Historic Maps of Maltby and the local area.

This Maltby Crossroads image (Queens corner) is probably more like 1967. In 65 that shop on the right was not built - it was waste ground the people walked over from Barbers Fish n chip shop (which would be behind this new shop extreme right) to the first shop on Grange lane, which would be Marshal's Grocery store (its now a (...Read full memory)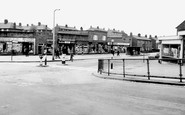 In the grounds of lido house there was an the remains of an old lido pool that my grandparents visited when younger. Next to the pool was a garden with an old sandstone fountain. I cannot find anything about an open air public pool existing possibly in the 1930s in Bramley. Can anyone help?