Historic Maps of Midsomer Norton and the local area.

I remember when I started my first job as a junior in the Westminster Bank in the background in 1964 -I stayed for just over 2 years and was then moved to Warminster branch and living in digs for the first time! I also remember the street being empty like this but only on a Sunday-you would be lucky to ever get this scene again with no cars!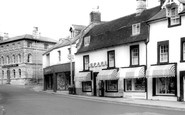 I am researching my family tree and found the address of 117 High Street, Midsomer Norton for the family - does anyone know which building this would have been please? The family names were Frederick Callow, his wife Mary Jane and their children Stephen, Frank, Leonard and Lily. Also, did there used to be a workhouse in the vicinity please? Many thanks!