Browse our selection of old black and white photographs of Oakengates, along with a selection of historic maps, local history books, and fascinating memories that our visitors have contributed. All our photos and maps are available to buy in a wide range of product formats, including framed prints, canvas prints, tea towels, mugs, jigsaws, tableware, cushion covers and as one photo in a customised calendar. Most of our local history books can have a personalised inscription added for FREE to the title page.
Historic Maps of Oakengates and the local area.

On the left of the photo is the Crown. For many years, this was my local. A good combination of beers & ciders, great bar staff (John Ellis, the landlord, Rachel, Mel, Carol, Yvonne & Keith, the last two sadly died in their 40's) & regulars, also frequent live music nights, quizzes, beer (...Read full memory)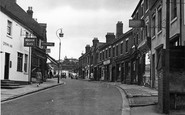 My father was born in Shropshire in 1919, his family name was Talbot changed by his father to Talbott because there were so many Talbot's and the mail was always sent to the wrong address. The family lived in or around Oakengates for many years until my father married and moved to Sheffield. I recall visiting the old family home at Christmas time each year. Proud of my heritage.