Historic Maps of Penny Bridge and the local area.

My great great great grandfather William Jackson was born at Spark Bridge, about 1829. My great great grandfather (William's son) Thomas Henry Jackson was born at Crossmore, Swarthmore, about 1858. I would love any information anyone might have about the Jackson family in this location, and indeed any (...Read full memory)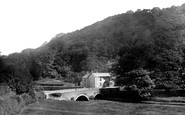 My grandmother Sarah Hewitt was supposed to have lived in Penny Bridge manor and had a sister, I think, who drowned crossing the river - before the bridge was put in, maybe? - but I cannot find any information on her or her family. I would really appreciate any information. What a beautiful place!!