Browse our selection of old black and white photographs of Sopley, along with a selection of historic maps, local history books, and fascinating memories that our visitors have contributed. All our photos and maps are available to buy in a wide range of product formats, including framed prints, canvas prints, tea towels, mugs, jigsaws, tableware, cushion covers and as one photo in a customised calendar. Most of our local history books can have a personalised inscription added for FREE to the title page.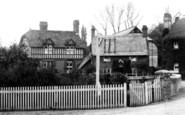 Historic Maps of Sopley and the local area.

Read and share your memories of Sopley itself or of a particular photo of Sopley.
I was there 1955 to 1997, apart from trips to Locking, and a final posting to the Shetlands, but RAF Sopley was brilliant. I was a radar mechanic/fitter on the Radar Office consoles in the bunker. When I first went in 1955 it had not been open very long, still had the old Type7 in the field, some Type 13s height finder and 14 (...Read full memory)
I too was at RAF Sopley and I remember having a call out to a fire at married quarters which was some distance from the camp. Up we roared in our little flat lorry towing a fire pump at 16 MPH flat out only to find when we arrived that the Bournemouth Fire Brigade had arrived before us from 12 miles away and put out the fire. But at least we got a good cheer.