Historic Maps of Southend-on-Sea and the local area.

I went to Southchurch High School for Boys after failing my eleven plus in 1948. Tbe headmaster was Mr Haxall a frighteniing person to an eleven year old. A great teacher of history and bookbinding was Mr Bull. The paddlesteamers were still coming into the pier to take the holuiday makers across to Herne Bay (...Read full memory)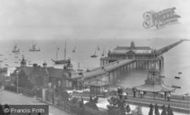 As a student at Southend High School for Girls in the 1960's, I remember our swimming lessons at the Westcliffe Swimming Pool - and I hated them! Unlike today, the water was cold and our instructors showed little empathy to those of us who were frightened of the water. Luckily, I learned to swim as an adult which has stood me in good stead for my life in Australia!