Stanwick, Northamptonshire
Historic Maps of Stanwick and the local area.

My memory of The Duke is that this was the public house that I first ever got drunk in. I was 17 and had just joined up in the Army in Boy Service. That Christmas I was on leave and went with family friends to the Duke. I was told I was not old enough to drink and the friends said if I was old enough to (...Read full memory)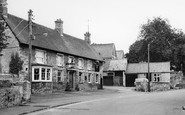 My wife Gail and I had our 2nd son born at the 'Duke', we were licencees for about 3 years till around the end of 1980. We met some great people and have good memories. I wonder what happened to 'Johnny and the Jailbirds' ... and would love to know what happened to Maurice Middleton. chrispresto23@hotmail.com we now live in Aussie..