Thorpe St Andrew, Norfolk

Browse our selection of old black and white photographs of Thorpe St Andrew, along with a selection of historic maps, local history books, and fascinating memories that our visitors have contributed. All our photos and maps are available to buy in a wide range of product formats, including framed prints, canvas prints, tea towels, mugs, jigsaws, tableware, cushion covers and as one photo in a customised calendar. Most of our local history books can have a personalised inscription added for FREE to the title page.
Historic Maps of Thorpe St Andrew and the local area.

The house on the right of this picture was owned by the Parker family who lived there and ran a Post Office, drapery and grocery store next to the house from 1902 until the 1950s. Members of the Parker family continued to live there until the late 1990s. My father, Hugh Caley Parker (...Read full memory)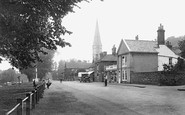 Not so much a memory - more an update! Since Mrs Barkway sold the hotel business, the property was split into dwellings and 6 years ago my husband and I bought Swan House, the building on the far left with the flat roof. It now has a pitched roof and looks very different. In March 2012 we opened as (...Read full memory)