Historic Maps of Westerham and the local area.

The left hand shop of the pair on the right of this photo was still called London House when I was a young lad in the late 1960's, going to Hosey school. I recall it had large glass jars with sweets in them but also sold things like "toothbrush sticks" which were twigs of what I later thought were Yarrow twigs but (...Read full memory)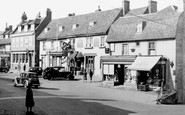 The bike outside no3 where my Nan and Granddad lived, belonged to my uncle he won a schoolarship to Sevenoaks School it would have been the only way to get to school. My other uncle worked in what was Fred Wood the grocers next to the old forge at the turning down to the old mill, my mother and aunt lived at no 3 as well.