Historic Maps of Whitworth and the local area.

I was christenedin St John's Church. My parents were marries there, as were my two uncles. I was born at 8 Meadow Cottages and my life-long friend Mavis Ellis (nee Lock) was born next door but one to me. I lived with my grandma and grandad, Hannah and Walter Ufton. At some time in the 1920s my great-grandmother (...Read full memory)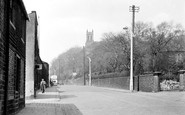 I learned to bell ring with Brian Heginbottom in the 50s. After many years of the bells not ringing we were able to repair the the bell room and the bells and rang for the millennium, they are now rang every Sunday, they have a practice night every Tuesday, anyone interested should contact Myles Hargreaves at the church.