Wimbledon, Greater London

Browse our selection of old black and white photographs of Wimbledon, along with a selection of historic maps, local history books, and fascinating memories that our visitors have contributed. All our photos and maps are available to buy in a wide range of product formats, including framed prints, canvas prints, tea towels, mugs, jigsaws, tableware, cushion covers and as one photo in a customised calendar. Most of our local history books can have a personalised inscription added for FREE to the title page.
Historic Maps of Wimbledon and the local area.

After attending Kingsley High School in Worcester Park, left there at 14 and attended Pitman's College in Wimbledon, where I learned shorthand and typing. Got me my first job in London at the tender age of 16. Don't remember much of Wimbledon, but do remember a very strict male teacher at Pitman's who would rap your knuckles if you did something wrong.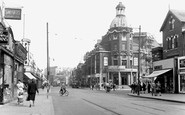 I remember 1952 the year of the great smog, making my way back from school along Dundonald Road towards my home in Graham Road. I had to follow the railings along the recreation ground because I couldn't see my hand in front of my face - I was 5 at the time. After I married at St Marys Church up Wimbledon Hill, I moved to (...Read full memory)