Browse our selection of old black and white photographs of Yattendon, along with a selection of historic maps, local history books, and fascinating memories that our visitors have contributed. All our photos and maps are available to buy in a wide range of product formats, including framed prints, canvas prints, tea towels, mugs, jigsaws, tableware, cushion covers and as one photo in a customised calendar. Most of our local history books can have a personalised inscription added for FREE to the title page.
Historic Maps of Yattendon and the local area.

The well incident at yattendon scared my father. We had heard about it through relatives and we lived in east tytherley at the time. I remember my father spending a weekend tapping floors and trying to lift flag stones in our kitchen because he was convinced that there was a well under our home- there wasnt.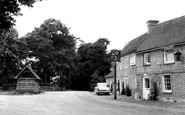 'The Oak' is the only pub and hotel in the village and in the fifties our next door neighbour was the cleaner there. She would cycle to the village from the farm on a heavy green bicycle in a slow and ponderous manner that has stayed with me to this day. I must have been about nine when the awful event happened that (...Read full memory)