Historic Maps of Weston Rhyn and the local area.

I now live in Lincolnshire but my father and family are native to Weston Rhyn and many family members still live in the area. I spent many happy holidays in Weston Rhyn as a schoolboy, I stayed at my aunt's house in Rhoswiel just by the canal and would pop across to the local shop run by Mrs Slaughter for sweets (...Read full memory)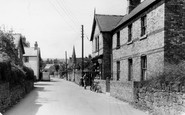 Mrs Barrett, the Post Mistress at that time, gave me a 1947 farthing for luck when I joined the Royal Electrical and Mechanical Engineers in June 1952. She said she had given one to village lads in WW2 and most of them came back, so look after it. I went to Suez and came back and it is still on my key ring.