Whittlesey, Cambridgeshire
Historic Maps of Whittlesey and the local area.

I'm researching my family history and I'd like to know if anyone remembers the Knighton family who lived in Whittlesey. My great great grandfather Ernest Knighton, lived on 11a St Mary Street in 1943. His son, my great grandfather Tom Knighton, owned a lorry yard in King's Delph. I'd also like to know if anyone remembers (...Read full memory)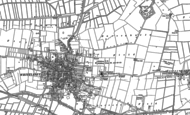 Researching my family history I have found the sale papers for the Bricklayers Arms. It was sold by my Great Grandmother, her husband was Frederick Easom Robinson. It was sold on Friday 8th august 1890. The sale was for Brewhouse Blacksmiths & Wheelwright shops, two Brick Built & Slated Tenements, an orchard, and 4 acres of land intersected by the railway, formerly the Brick Yard.