Willesden Memories
Read and share memories of Willesden
I was born in Park Royal Hospital in November 1951. Lived for a while in Willesden High Road. We then moved to Severn Way, which was off Denzil Road. I went to school at Dudden Hill Infants School. Then I went to St.Marys Junior school. After that I went to John Kelly Girls School. When I was 15 I left school and went to work at (...Read full memory)
I spent most of my childhood years growing up in Cooper road, Dollis hill, London. Back in the late 1960's I always felt a strange and eerie atmosphere when I would walk into my parents house, once the front door was closed, I felt like I was in a tomb, even though my father always kept the house heated with paraffin (...Read full memory)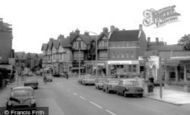 I was born in Park Royal hospital in Feb 1952 then taken home to 70 Craven Park Road spitting distance from Harlesden police station. Just across the road from our family doctor, (Dr Curtis) not much bedside manor, but a great doctor. After 3 years we moved in with my mothers mother in 18 Mead Plat, just (...Read full memory)
I was born in 58 Litchfield gardens in 1949 and went to St Andrews juniors and still remember the air raid shelters in the play ground and being there when they were knocked down. I took a trip 'down memory lane' some years back and took a walk from Dollis hill station past my nan and grandads in Chapter road. (...Read full memory)
I went to Leopoled rd school in 1949 I remember ,Joan Stroud ,Shirley Howard , lived in Burns Rd Maureen Roberts & cath lived next door, had a brother Ted. My dad worked on railway. Does anyone remember us .
I used to live in Drayton Road, Harlesden. I lived next door to the police flats where I used to play with my friends. I am looking for Carol Foster who used to live in the police flats. Had a very enjoyable childhood. I went to Pound Lane school, then I worked at British Railway in Paddington, and worked with a girl (...Read full memory)
My brother and I were born in Central Middlesex Hospital, me in 1949, my brother in 1953. We lived in Harlesden High Street in the late 40's early 50's. We lived above the tailor, John Collier - its now Jasmine's , at 103a High Street. I remember as a small child looking out of the window and watching all the cars (...Read full memory)
My nan was wondering if anyone remembered her from Dean rd, Willesden green and would love to get into contact with anyone who remembers.
I live in Australia but my great grandparents lived at 19 Leopold Rd Willesden. Apparently they were a railway family - my grandfather was Charles Holliss - his dad was John Holliss - other kids in the family were Annie George William Eric. I don't know if any of their relatives still live (...Read full memory)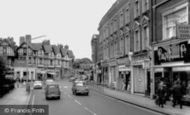 Does anyone remember me? I went to John Kelley secondary school from 1959 to 1962.