Historic Maps of Wilton and the local area.

This is a little hamlet called Ugford, just beyond the edge of Wilton before you get to Barford on the A30. The cafe in the middle of the photo was a single storey building, as far as I remember, with a verandah - very low-key and modest, but okay for a cup of tea or a Coke. My friends Jennie and Julian and I walked up through (...Read full memory)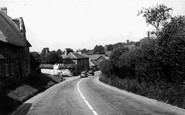 I saw the memories of the lady whose grandparents owned Levers butchers. I remember my mum taken me there when I was tiny to get steak and kidney etc. My mum died in 1974 so it was a long time ago.