Wimborne Minster Memories
Read and share memories of Wimborne Minster
I can remember when this was the main A31! Yes it is very difficult to imagine now that all the traffic from East to West came along this road as well as the traffic from West to East, that is both ways! Yes ALL the traffic as there was no by-pass in those days!! When the volume of vehicles increased, because the road was (...Read full memory)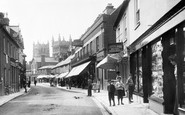 Does anyone have a picture of the front door with the sign on? Needed for the replica at Wimborne Model Town
As a child growing up in Bath, I remember walking across this bridge with my parents and being taken into the shop to meet my uncle Harry Langer who made us very welcome. I remember the smell of leather and the interesting goods for sale. His son Brian Langer, now living in Basingstoke, still keeps in touch with my 93 year old mother and we exchange Christmas cards.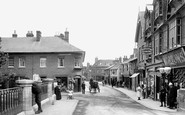 In 1938 my mother walked this street with me and my brothers and sisters every week, to and from Cowgrove to visit my Grandmother, who lived in a row of cottages around the corner (coming from the Minster) which I believe was Poole Road. If my memory serves me, there were cottages running at right angles (...Read full memory)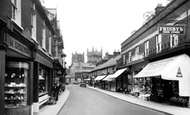 I know this spot so well as almost every year for the last thirty years it has been a popular street corner to stage music and dance events at the annual Wimborne Folk Festival. You need to imagine that the deserted street corner you see in this picture postcard view, is full of Morris Dancers and their (...Read full memory)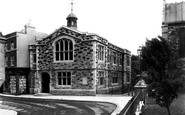 Looking at this photo it is amazing to remember that double-decker buses used to travel along here. I would travel in one from my home at Ferndown while attending Wimborne Grammar School (1945-51) and it always had trouble turning right at the point seen here in the centre of the picture and often scraped the brickwork.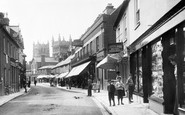 Apart from lack of traffic, this picture of the Square doesn't show too many changes from when I remember it. I left Wimborne Grammar School in 1951 and became a trainee reporter with the Wimborne News in Mill Lane, just outside this photo to the right. My dad was a waiter at the Kings Head Hotel in the square.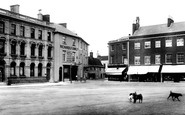 Ingram Richards was my grandfather. My father (John) was the only child of Ingram to emigrate (in 1927) to Australia. Dad died in 1978. I am a former Australian regular army officer and visited Wimborne on a couple of occasions in the 1970s while on exchange in Germany with the British Army and later when on a (...Read full memory)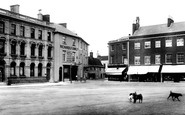 My parents bought the shop and house in the foreground in 1980. You could just see a 'Hobbs' sign painted on the front of the building and Mr L E Hayward had a toy and pram shop there which he had run since just after the war, I think. You can still see his shop in the model town in Wimborne. (...Read full memory)