Historic Maps of Windermere and the local area.

The picture shown is of the junction with Main Road and Victoria Street, Windermere. The nearest building is obviously the Queen's Hotel (still there) and the one behind it is the Oakthorpe. To get to Orrest Head from here, take the right fork to the top of the hill where it joins (...Read full memory)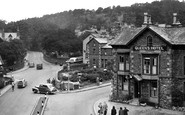 This is the front entrance to the Windermere Hydropathic Hotel. During the Second World War it was the home of Ashville College of Harrogate, as they had been evacuated to Windermere as the school buildings in Harrogate were being used by the Civil Service. The hotel is still in use as a hotel and has beautiful views over the lake.