Historic Maps of Ascot and the local area.
I grew up in Cheapside Village and went to Cheapside C of E School when it was still in Cheapside Road between Mrs Clarke's house and Mrs Mc Master's house, opposite the social centre. I remember Mr Goulding the Headmaster who was an amazing music and singing teacher. How I loved the assemblies each morning, singing (...Read full memory)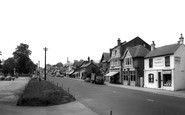 Dear Susan Hunt, Ascotonian. Just a slight correction regarding your memories. I am not "Your" Richard Dale, sory, athough I think your memories are super. I was born in June 1937, in Fernbank Road, close to Goaters Road, and I attended Ascot Heath Shool from 1942 to 1952. Best Wishes, Richard F. Dale.