Barmouth Memories
Read and share memories of Barmouth
My mother Jennie Richards was born in Barmouth in 1917' her parents were Jack and Gwendoline Richards of Gorllwyn Fawr on the Panorama Road. My father was stationed at Ty Craig Castle in 1942, They met and eventually married in 1943. They moved back to Leicestershire where my brother and myself were born. We visited (...Read full memory)
In 1946 my dad decided we would join an aunt and uncle holidaying at Barmouth. They had hired a little caravan for two weeks at Caerdaniel farm Llanaber. Dad dug out his prewar camping gear [we were camping at Clevedon in September 1939 when I was 18 months old ] and borrowed a large sack truck off his boss. On the (...Read full memory)
The Welsh costumed young lady outside the Rock Shop had an unlimited supply of Pwllheli Number 8 rock. A joy to eat, unlike so many of today's softer offerings at other seaside resorts. On a day visit to Barmouth from my home village of Dyffryn the three main events were the Rock Shop for a free sample, the Milk Bar for lunch (...Read full memory)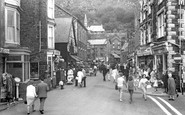 My father Simon had a penwriter in 1950. She came to France in the town of Mainvilliers around 1950. I found a postcard called Bowling Green & Memorial Park, Barmouth. She was living in the house with a white front door just below the Catholic church. Who could help me to find her?
My grandmother, Isabella Graham Wharton, was the proprietor of Wharton & Son in the 1930s in Barmouth. I believe she sold the store to WH Smith c1936 when her son, my father, returned from boarding school and they moved to Liverpool. I would be interested to know if anyone (...Read full memory)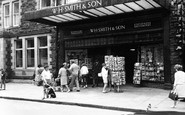 My grandfather Edward 'Ted' Powell was born in Barmouth in 1908 and lived in Tai Croesion, Llanaber. His mother was Sarah and father Evan Ellis, and he had a sister Bessie. His grandparents owned the grocery store in the village Powell & Sons. When he was a toddler he ran out into the road and was hit by a (...Read full memory)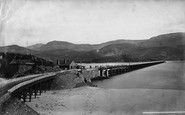 Just before her death I went to Barmouth with my Step-Grandmother, it was her Birthplace, and was a grand town. Her maiden name was Agnes Adams, if there are any people by name of Adams in Barmouth, I'd love to make contact and exchange family history.
I have many fond memories of Barmouth. My parents, 2 brothers and myself spent our holidays in a caravan at Williams'. No T.V, gas light (those damn mantles!) but what wonderful times we had. We would go 'over the beach' at night armed with shrimping nets and scour the rock pools, climb over those huge rocks and (...Read full memory)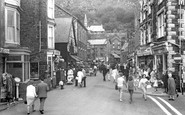 60 odd years ago Plas Mynach was de-requisitioned from war service.  I worked for a Mr Hamblin from Birmingham, he had purchased the building to reopen as a hotel after we had refurbished throughout. All food stuff was still on ration so we kept a pig, ducks fowl etc, and scoured the district farms to buy (...Read full memory)
Way back in my childhood, brothers two and then plus me, Mom and Dad said let us pack our bags, and go down to the sea, Down to the railway station, our entourage did go, Comic books within our hands, cause, four hours, they went so slow Now as the train pulls into town, his whistle he did blow, To warn the people off the (...Read full memory)