Barrow, Cumbria (near Dalton-In-Furness)
We have no old photos of Barrow available currently. You might like browse old photos of these nearby places.
Historic Maps of Barrow and the local area.

Apparently, there was housing built for ship-building families along Duke Street. These were heavily damaged by bombing raids in the Second World War we hear, and presumed demolished. I am wondering about any info on these dwellings. My paternal grandmother's ancestors lived in them in 1871 for sure, at 269 Duke Street, (...Read full memory)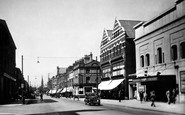 I was born in Barrow in 1954, later living in Dalton and Ulverston up to 1970. Many happy memories of a trip to the Ritz Cinema, but the one that stood out was Mutiny On The Bounty made in 1962 starring Marlon Brando & Trevor Howard. Probably my first visit. Also Abbey Road always appeared a grand entrance to the town a wide road and trees either side.