Barrow, Cumbria (near Dalton-In-Furness)
Sorry, we have no old photos of Barrow available currently.
You might like browse old photos of these nearby places.
Historic Maps of Barrow and the local area.

I was born in Barrow in 1954, later living in Dalton and Ulverston up to 1970. Many happy memories of a trip to the Ritz Cinema, but the one that stood out was Mutiny On The Bounty made in 1962 starring Marlon Brando & Trevor Howard. Probably my first visit. Also Abbey Road always appeared a grand entrance to the town a wide road and trees either side.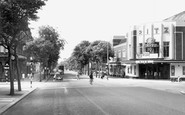 I'm looking for my relatives, the Westwood family; Barbara, Brian, Arthur. One of them or all of them lived on 1 Vulcan Road, in Barrow. I don't have any more details but I'm desperate to make contact. I would be grateful for any information regarding this family.