Brierley Hill, West Midlands
Historic Maps of Brierley Hill and the local area.

Can anyone remember Alan Davidson's and Dorothy Dangerfield's shops? I also recall being facinated with the revolving doors in Woolworths. My memories of Chattin & Horton was the annual visit to see Father Christmas. My youth was spent in Brierley Hill Market, hanging out at the record stall, sifting through the 45's with my mates on a Saturday afternoon. Karen Westwood.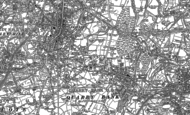 I remember as a child, the toy shop next to The Three Horse Shoes pub that stood on the corner of High Street and Moore Lane (on the Five Ways). It was like an Aladdin's Cave to a kid - full of everything! I also remember getting my first bike (a Raleigh Tomahawk in blue) from the bike shop by The (...Read full memory)