Brierley Hill, West Midlands
Historic Maps of Brierley Hill and the local area.

I also remember Chattin and Horton shop in Brierley Hill high street yes, it was a very exciting store especially at Christmas.  I was six years old and my sister who was four years older saw a lovely toy baby grand piano in the window. She said to my mother that Judith would love that piano for Christmas. That Christmas morning the piano was there waiting for me.  I was over the moon, happy days!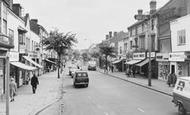 I was born in Chapel Street, in 1947. My uncle, Len Gray, had a newsagents in the town, near the bus stop by the Old Post Office, as was. My Grandad used to sell papers on the Five Ways and as a girl I would stand with him, and later progressed to having a paper round, down Corbett Road. I worked as a (...Read full memory)