Brierley Hill, West Midlands
Historic Maps of Brierley Hill and the local area.

I suppose I'm cheating but I can go back a good way further than the 1900s because my memories are mainly my mother's and she was born in 1904 and lived in South Street. She used to share her memories with me like playing tin can lurky at the bottom of the Baptist chapel wall opposite her house. Her father (...Read full memory)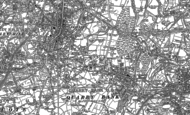 Can anyone remember Alan Davidson's and Dorothy Dangerfield's shops? I also recall being facinated with the revolving doors in Woolworths. My memories of Chattin & Horton was the annual visit to see Father Christmas. My youth was spent in Brierley Hill Market, hanging out at the record stall, sifting through the 45's with my mates on a Saturday afternoon. Karen Westwood.