Photographic Memories
Travel back in time and revisit the landmarks and places of the past in this popular series. Focussing on photos taken before the 1960's, and with hundreds of titles, there are bound to be many covering places of interest to you, your friends and family. There are 310 books in this series.
Prices from £14
.
What to expect in a Photographic Memories book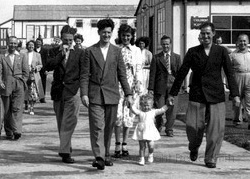 Relevant and engaging to all
These wonderful books are of interest to old and young and make a great talking point, sparking many memories and providing hours of enjoyable reading and reminiscing. Over 300 titles have been published. Photo is Scarborough, Holiday Chalets c.1955, from Around Scarborough Photographic Memories.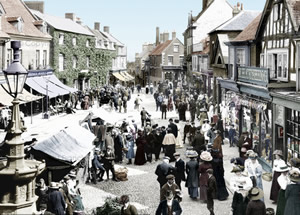 Real life captured in photos
Real people pass through the pages of these books: people whose names we do not know, captured for a moment at the edge of a photograph before they moved out of frame and back into their lives. Photo is Market Drayton, Market Day 1911, from Shropshire Photographic Memories.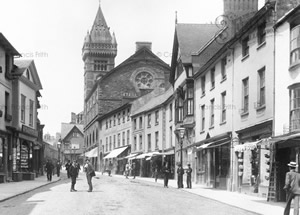 Photographic portraits of our towns
Special selections of our photographs are brought to life for the reader with extended captions to offer a fascinating portrait of the area in years gone by, written by talented and knowledgable local authors. Photo is Abergavenny, Cross Street 1898, from Around Abergavenny Photographic Memories.
Selected pages from the Photographic Memories series.
To get a feel for what you can expect from this book series, take a peak at these sample pages from a Photographic Memories book.
Personalise your Book
Most of our books are printed individually to your order, allowing you to add a personal message when you buy that will be printed on the title page at no extra cost, making our books a great gift or keepsake.
There is simply nothing like receiving a gift that has been specially chosen with you in mind.Our individually printed, personalised books are the perfect way to show you care and are ideal for birthdays, weddings, anniversaries and leaving or retirement occasions.
Before you buy, you can add a personal message which will be printed on the title page of your personalised book for no extra cost. Available as paperback or hardback.
---
Poetry books and any books under the 'Stock Books' category cannot be personalised and available on in paperback or hardback as specified.
Free Photo Print with this Book
These books include a voucher for a free Frith Photo Print.
Turn to the back of your Frith book and find a voucher for a free mounted print of a Frith photo of your choice. Simply choose any photo from the book, return the completed the with a small payment for P&P. We will then print it in sepia and mount it for you in our Medium Standard mount.
Explore other Photo Book Series
Other Frith Shop Departments