Gloucester Memories
Read and share memories of Gloucester
'The Grate People'. Famous for cooking ranges, fireplaces etc as well as general ironmongery. Opened in 1905, wound-up in 1965. Started by my great-grandfather & partner from the west country. There is a re-creation of the shop in Gloucester Folk Museum nearby. Although the shop looks (...Read full memory)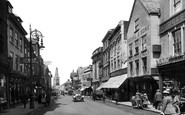 Tiger H would have been built by John Harker Ltd, Ship Builders, of Knottingley, West Yorskhire. My father born in Knottingley, was Captain on various John Harker petrol tankers from the 1930's - 50's, in Gloucester. He did not work on Tiger H, but I have heard her being mentioned at various times, when my family would chat about various vessels from those days.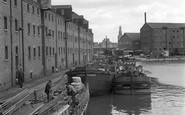 Hi, Brunswick Baptist Church (Brun) is going to be celebrating it's 200th anniversary next year. I am looking for old photos, memories, etc that could possibly feature in a book we are trying to put together. We start out in New Inn Lane in 1813 (possibly in a room in the pub) and then moved to (...Read full memory)
This is the department store Bon Marshe filmed from outside the post office, During the war, part of the store was taken over by the American forces and many a date was arranged, to meet under the clock on the far corner. I remember queueing most Saturdays outside to buy currant bread for a treat for Sunday tea, also (...Read full memory)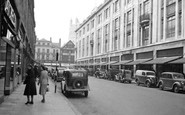 I am certain the steamer is 'Sabrina' built in 1870 and was the steam inspection launch of the Directors and Engineer of the Gloucester and Berkeley Ship Canal, Gloucester. In 1912 'Sabrina' was owned by the Dock Company and did not leave their service until 1942. 'Sabrina' is still in regular use now on the River Thames and still in steam.