Gloucester, Gloucestershire
Historic Maps of Gloucester and the local area.

'The Grate People'. Famous for cooking ranges, fireplaces etc as well as general ironmongery. Opened in 1905, wound-up in 1965. Started by my great-grandfather & partner from the west country. There is a re-creation of the shop in Gloucester Folk Museum nearby. Although the shop looks (...Read full memory)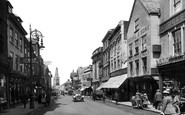 Tiger H would have been built by John Harker Ltd, Ship Builders, of Knottingley, West Yorskhire. My father born in Knottingley, was Captain on various John Harker petrol tankers from the 1930's - 50's, in Gloucester. He did not work on Tiger H, but I have heard her being mentioned at various times, when my family would chat about various vessels from those days.