Historic Maps of Lydiate and the local area.

I went to Greetby Hill from 1960 to 1967 when I went to the Grammar School. I lived down Ladies Walk up past Cross Hall and we walked down Thompson Avenue, Tayor Avenue and Greetby Hill to get to school. I remember Mr Butts and his bubble car.I remember being an angel in the infant school Christmas nativity play. A girl I (...Read full memory)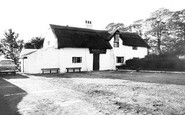 Lots of my relatives and friends are buried in the churchyard here. I was christened here by Rev Woodcock who had married my parents. I believe that he may have also christened me in 1955. I sang in the choir with Mr Foot as choirmaster until I moved South in 1970. I remember spiking the balcony with the Union Jack flagpole at Church Pararde when I was in 1st Lydiate Guides!