Historic Maps of Standon and the local area.

My parents (Harold and Peggy Warden) bought Hillside (which was the miller's house, the mill fell down after the First World War) and moved my sister (Rosemary) and I from Surrey in April 1951, I was then 7 years old. Later that Month it snowed, cutting off Dark Hill and therefore Wellpond Green. I enjoyed Standon School, (...Read full memory)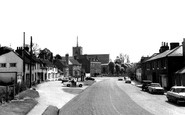 When I lived in standon my mum was a teacher at the school I can remember May Day dancing in the street ,I have many memory's of swimming in the ford and helping to push cars that got stuck in the water .calling at westwoods on my way home from school and buying a lucky bag for 3d. Linda Maskell was Catley .