Historic Maps of Ambleside and the local area.

Hi there. My name is Amaia López de Munain. I'm a spanish journalist based in Glasgow. I'm researching about Mairin (also known as Marion) Mitchell, she was born in 1895 in Ambleside. She was the daughter of Dr. Thomas Houghton Mitchell born in Limerick and Gertrude Emily Pease (Gertrude Mitchell). They had a son Edward (...Read full memory)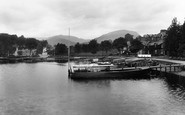 I have just been going through some old photos of my dads. He grew up in Ambleside in the 1930's and 1940's. His dad was the local bank manager I believe. He lived in a house called Merewood Cottage. I was wondering if anyone knew where this is. He also mentions a house called Bank House. Any information anyone could share would be very welcome.