Important Notice Regarding Delivery:
We have been advised by Royal Mail & Parcelforce that their collection and delivery services will be disrupted by industrial action on the following dates: Wednesday 30th November 2022 and Thursday 1st December 2022 so this may affect the delivery of some orders.
Nostalgic memories of Edinburgh's local history
Share your own memories of Edinburgh and read what others have said
For well over 10 years now, we've been inviting visitors to our web site to add their own memories to share their experiences of life as it was when the photographs in our archive were taken. From brief one-liners explaining a little bit more about the image depicted, to great, in-depth accounts of a childhood when things were rather different than today (and everything inbetween!). We've had many contributors recognising themselves or loved ones in our photographs. Why not add your memory today and become part of our Memories Community to help others in the future delve back into their past.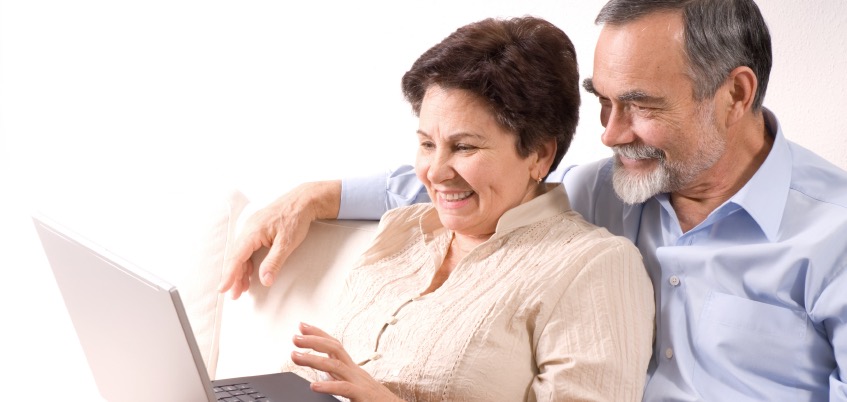 Add a Memory!
It's easy to add your own memories and reconnect with your shared local history. Search for your favourite places and look for the 'Add Your Memory' buttons to begin
Add Your Memory for Edinburgh
Tips & Ideas
Not sure what to write? It's easy - just think of a place that brings back a memory for you and write about:
How the location features in your personal history?

The memories this place inspires for you?

Stories about the community, its history and people?

People who were particularly kind or influenced your time in the community.

Has it changed over the years?

How does it feel, seeing these places again, as they used to look?
This week's Places
Here are some of the places people are talking about in our Share Your Memories community this week:
...and hundreds more! Enjoy browsing more recent contributions now.
Search for Local Memories
Search for your favourite UK places and read memories of the local area in days gone by.
Subscribe
Join the thousands who receive our regular doses of warming nostalgia! Have our latest blog posts and archive news delivered directly to your inbox. Absolutely free. Unsubscribe anytime.
This is the view from Telfords Dean Bridge looking towards Stockbridge. The Water of Leith is just visible, having just flowed through Dean Village (on the 'other side of the picture', behind the photographer. There is a path from Dean Village to Stockbridge along the bank of the Water of Leith. When I lived here (~1976-2003). The small 'Greek' style 'temple' is St.Bernard's Well. I think there is a separate spring
...see more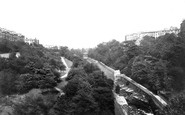 ---
I can't quite work out exactly where this is. I think its a little bit downstream from the other image of Dean Village, but the buildings on the left of the footbridge are not as I remember them - maybe they were demolished? I think the 'twin towers', in the distance are (or were) the Scottish Gallery of Modern Art?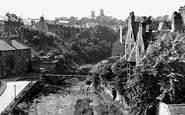 ---
I lived in a small flat in a converted tannery warehouse between 1976-2003- just off-shot at the left hand edge of the picture, All the old buildings are now renovated and converted to flats. A very desirable place to live. The church in the picture is actually at the far end of Telfords Dean Bridge which is not visible in the picture. The bridge was part of the 'new' high road out of Edinburgh which used to be across the small bridge in the picture.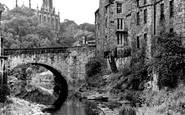 ---
I went to nursery school in the castle. We lived only 50 yards up the road in Loaning Road in the Munrospun factory. Number 3 Loaning Road belonged to Munrospun and my dad was the electrician and the house came with the job. There was a bomb shelter in the back garden that we played in daily. I walked to Craigentinny Primary with my brothers David and Brian. Went to the scouts in the church hall across from the
...see more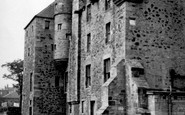 ---
My great-great-aunt's (sisters called Copland) kept a wool shop in Edinburgh in the 1800s. I have tried to find out about them but without much success. I would be delighted to hear from anyone with any knowledge of them or the shop. Many thanks. Jennifer Cook (Copland)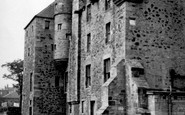 ---
This is where my husand John Tuff grew up. I'm going to buy this picture for John as John now has Alzheimer's disease and when he sees this picture it will bring back some of his memory as a boy. John played as a boy by this castle and he told me about when a German plane crashed by the castle and how John and his pals got chased by the police and home guard.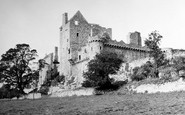 ---
When I was 8 or 9 years old our family moved from Clyde Street, Edinburgh to the High Street or, as we called our immediate area, 'The Tron', in view of living in the shadow of the old Tron Kirk. Our address was 'Fleshmarket Close' of Ian Rankin fame ref the book of that title. The number of the Tennement was 199 High Street. The area now of course bears hardly any recognition to what it was like when I was
...see more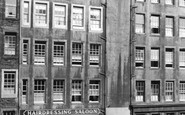 ---
This view was from our flat at 25 Grassmarket. A memory that lives with me and tugs at my heart whenever I see it. I lived there from 1949 to 1953. Although the area was poor I treasure the time there.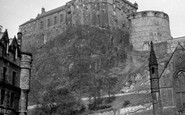 ---
At the age of 11 we moved here & a group of us could always be found (gambling our pocket money at cards) on the steps in the photo. It always amazed us the number of tourists who would enter the close asking if they could take our picture, we must have looked like street urchins!, we often got money from them to show them round. I had a Milk Round before school, & met the Roundsman on
...see more
---