Hampstead Norreys, Berkshire
Historic Maps of Hampstead Norreys and the local area.

I lived in what was called the huts with my parents, Vera and Sam Somerville, and elder brother. We moved to Compton when I was about three years old. We used to walk from Compton to Hampstead in the summer to visit relatives. I don't remember living there, my only memories are what my mother told me.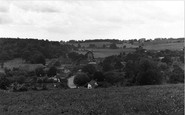 I lived in Hampstead Norris as it was known in those days from 1945 to 1962 when I departed for greener pastures(I thought). I have had this longing for a while now to get in touch with people I went to school with in the village and at Compton. If you know my history you may or may (...Read full memory)