Historic Maps of Padiham and the local area.

Not sure of the year it was in the 1970;s my dad told his fireman to jump, as there was to much weight on the back.Has it was going down to padiham power station. If the fireman was you ,or you know the fireman ,or anything about it would (...Read full memory)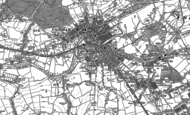 I was evacuated here with my sister during the war and we lived at 19 Canning Street with two elderly ladies. They kept hens on a piece of land opposite. I used to go across the road and across a bridge over a stream to the local shop with a jug to buy gravy. Wendy Appleton ps You can read all about it in my book"A Little Girl's War"