Historic Maps of Westleton and the local area.

Hi, My father Alfred Bell was in the Royal Artillery 136 Field Regiment and was stationed in Westleton in 1940 but did training in Dunwich as well. I have got a photograph taken on the green of a few of his comrades in uniform, he is sitting in the middle. The seat was round a tree (which was just a sapling then, I (...Read full memory)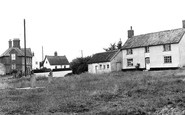 Edward Charles Friend was my father. His first wife died in 1930, he married my mother in February 1933 and I was born in December that year. Dad died in 1957, aged 88, and active until about three weeks before he died. He was a wonderful man, everyone loved him, I would love to know more of your side of the family please.