Exmouth Memories
Read and share memories of Exmouth
My great great Granddad started the Exmouth to Starcross steam ferry in the 1880's - His name was Freddy Gronberg! My name is Janet Peniston - my Mother's maiden name was Eva Gisela Gronberg!
I was born in Pencarwick Nursing Home Exmouth on 7 December 1940. The Principal was Mrs M.E.Hodges My mother left London sometime beforehand with my two elder brothers aged 2 and 6. She left London to avoid the bombing. I understand my mother lived at 2 Marpool Grove. I was christened in All Saint Church on 18 (...Read full memory)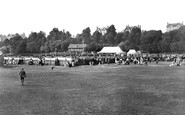 Jimmy Fields & I use to go to the Exmouth baths most every weekday evening (after school) to swim in the swimming pool until it was closed around 7.30pm whereby we then went to the river exe (right across from the swimming pool) for another hour of swimming! Great memories of the (...Read full memory)
From about 1930 to 1939 my family had a shack/bungalow on the Warren. Every summer we loaded the car at our home in Exeter, drove to Exmouth, and were ferried to our shack by a boatman, Bill Hocking. My brother John became an accomplished dinghy sailor and raced at the Exmouth club - sometimes with me as crew. (Later in life he (...Read full memory)
This view of A La Ronde is little changed from 2013 - perhaps less greenery growing up the walls and better formal flower bed planting near the entrance. What made the visit special for me was being encouraged to play their grand piano. Its an unusual one made around 1870 by the Gebruder Knake workshop of Munster, (...Read full memory)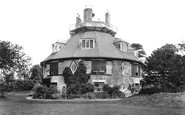 My dad, Alan Wakley, was the swimming pool manager and my mum worked in the ticket office. I can remember the Saturday galas with races followed by water polo matches. I learnt to swim here and worked in the little cafe next door during the summer. Fond memories of emptying the pool at the end of each season and finding all sorts of treasure.
From 1948 until about 1960 the docks were my playground. My father was a member of the EXE Sailing Club (as was I, in my teens), and my grandmother lived in Mamhead View. I often stayed with my grandmother for extended periods. I got to know the sailors on the small freighters from the northern European countries delivering (...Read full memory)
In the 1950's I lived in Exmouth and my cousin,Pauline, stayed with us in her summer holidays from boarding school. We are in this picture, in the boat nearest the side of the lake. I am facing the camera and I think I was eleven or twelve at the time. I remember it was extremely hard work turning the handles at the (...Read full memory)